meet the people behind
your new marketing team.
When you spend 40+ hours a week surrounded by the same group of people, they start to become like family. We've struck the perfect balance of celebrating successes while hitting client deadlines and working to exceed client expectations in an environment centered around trust, accountability, collaboration, respect and an unrelenting spirit. We believe the input from others leads to greater success, diversity of thought, and more impactful results for our clients.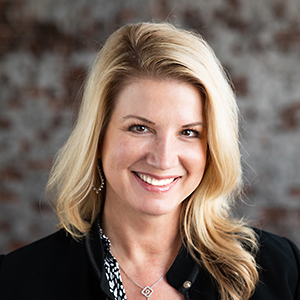 melea mcrae
founder, ceo

When you've been in your client's shoes, knowing what makes them tick and what it takes to move the needle comes naturally. Along with her unique perspective, clients have counted on the straightforward, "tell it like it is" approach. With more than 20 years of marketing experience ranging from leading internal marketing teams to building brands, her knowledge of marketing communications is anything but one-dimensional.

Melea has extensive experience leading client-facing marketing departments where she earned the reputation of an insightful brand strategist. Whether she's strengthening an existing brand or building a brand from the ground up, her ability to get to the heart of a client's business and establish a smart, strategic, fully integrated plan and push it forward is truly an asset. (read more…)

Prior to founding Crux, Melea was the senior vice president of growth for Trozzolo. She also served as the chief marketing and membership officer at the Greater Kansas City Chamber of Commerce. She led the sales and marketing efforts, representing more than 2,500 business in the Greater Kansas City region. Under her leadership, the team also spearheaded the Chamber's rebrand and helped create an image for the region's business community that's admired and respected in Missouri, Kansas and beyond.

In 2010, Melea was named a KC Business Influential Woman. She currently serves on the boards of the Kansas City Repertory Theatre, Junior Achievement of Greater KC, the board of trustees for the National MS Society Mid-America Chapter, the marketing committee for United Way of Greater Kansas City and the patrons committee for the Women's Foundation of Greater KC.

Melea holds a bachelor's degree in business management with a minor in marketing from Webster University in Kansas City, Mo., and has recently embarked on the Rockhurst Helzberg Executive MBA program, class of 2020.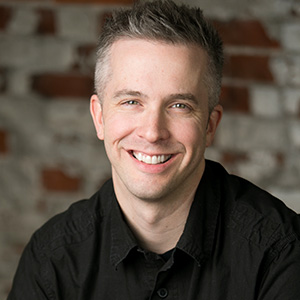 matt smithmier
vp, content

It all comes down to storytelling, after all. Matt has spent his entire career doing just that, as a reporter and magazine writer, a public relations executive and a marketing professional. Because when the story is told the right way, the message can be extremely powerful and incredibly effective.

With a background in journalism, he's spent a number of years leading internal p.r. and marketing teams, working with outside vendors to build brands. He's also worn the agency hat and helped guide clients down the path to better communication. (read more…)

Prior to joining Crux, Matt led a digital editorial team at Creelio, assisting executives with building their personal brand – and, by extension, their company brand – in the online space. Before that, he served as managing editor for a publishing company, leading writers, editors and designers in the creation of nationally distributed magazine titles and online content.

He also has more than 13 years of experience guiding internal marketing teams in the health care and financial industries at various organizations. Media relations, marketing strategies, brand management—all tools he's used to tell powerful stories that make a difference.

Matt earned a Bachelor of Journalism degree from the University of Missouri.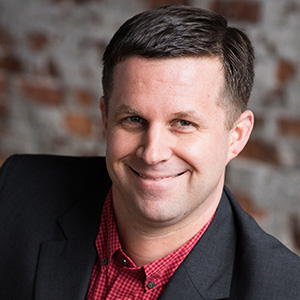 ryan hembree
vp, creative

Ryan is passionate about building brands and helping clients solve their creative and business challenges. With more than 20 years of professional experience, he leverages his strategic, creative and design thinking skills to provide unique solutions for clients' business needs—whether in brand, marketing, or product and service development.

Prior to joining the Crux team, Ryan built, operated and sold a successful brand and marketing firm of 16 years, working with more than a hundred clients throughout the Kansas City region and beyond. (read more…)

His work has been recognized by the Advertising Club of Kansas City, the American Graphic Design Awards, the Austin Advertising Federation and has also appeared in several design annuals and publications, including: Print Magazine, Logo Lounge: 2,000 International Identities by Leading Designers, Logo Lounge 2, and American Corporate Identity. Additionally, his firm's work had been recognized by the AIGA of Kansas City, How Magazine, and Typography 26 by the Type Director's Club.

In 2006, Ryan wrote and published The Complete Graphic Designer, distributed by Rockport Publishers, in over a dozen languages. He is an educator and speaker on the topic of design and branding, having taught at the Kansas City Art Institute and the University of Missouri–Kansas City, and is a frequent guest speaker at Johnson County Community College. Ryan has also served on the Board of Directors for the Advertising Club of Kansas City (the Ad2 and the Art+Copy Clubs), and has judged several design competitions, including the Northwest Missouri Regional Scholastic Art Competition, the Topeka Ad Federation Addies and the Mid-Missouri Ad Federation Addies.

Ryan holds a Bachelor of Fine Arts degree in Design, with an emphasis in Graphic Design, as well as a Master of Arts in Design Management degree from the University of Kansas.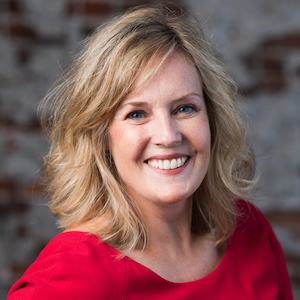 becky schieber
account director & senior writer

A card-carrying grammar nerd, Becky has spent much of her life as a crusader for accurate and awesome communication. A natural dot-connector with bottomless curiosity, she is relentlessly resourceful in connecting ideas, people and words in unexpected ways to build lasting relationships and achieve strategic outcomes for her clients. Becky is a practiced listener and distiller of complex information into conversational messaging.

Becky started her more than 20-year career as a television news producer in some of the country's biggest markets before putting down roots in Kansas City, where her 10 p.m. newscast consistently earned top ratings—after spending decades in second place. Following a cancer diagnosis close to home, she pursued a career in donor development. (read more…)

Working with many of KC's influential business leaders, she raised millions of dollars to support leading-edge cancer research and advocacy efforts. As a development director, she created an award-winning integrated advancement campaign that helped The University of Kansas Cancer Center earn National Cancer Institute designation. She ran the corporate charitable foundation for a global engineering firm, overhauling its strategic focus and crafting the associated communications strategies.

Before finding her tribe at Crux, she honed her experience as a freelance writer, editor and campaign strategist in the engineering, nonprofit, health care and biomedical research industries. She presents to nonprofit professionals on CSR best practices and volunteers her fundraising strategy and communication expertise to fledgling nonprofits.

Becky is a 2013 graduate of the Greater Kansas City Chamber of Commerce Centurions Leadership Program and former member of the Friendship Inn board of directors. She served on the Corporate Leadership Council for Engineers Without Borders USA, the March of Dimes Greater Kansas Chapter communications committee and as a coach and mentor for FIRST LEGO League. Aside from her family, her favorite things in this world are Springsteen, giant LEGO sets and the stack of soon-to-be-read books on her nightstand.

Becky earned her Bachelor of Science degree in communication studies at Northwestern University with a concentration in Slavic Studies.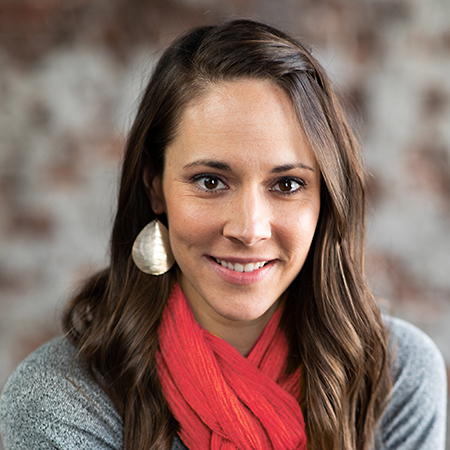 jessica toms
account director & senior writer

Thanks to a career working across multiple major industries and in countless capacities, including a designer, copywriter, media buyer and an entrepreneur (to name a few) Jessica approaches marketing from a business perspective. She makes it her mission to prove the value and ROI of her marketing efforts, going beyond meeting communications and promotional needs, to supporting or directly meeting business goals and driving growth.

Across Jessica's 13-year career, she's worked to support national sales teams, build comprehensive campaigns for some of the nation's largest brand names, managed consumer brands, written for and directed award-winning videos and commercials, and implemented executive and corporate communications plans for industry leaders. She's worked in retail, PR, TV, online, tourism, real estate, health care IT and health and wellness full time, while freelancing for clients in several other industries over the years. (read more…)

Jessica is relentless in her pursuit of the best solutions to fit her clients' needs and is extremely passionate for the work she does. She has a special knack for identifying gaps in the marketing life cycle and aligning the appropriate activities and programs to achieve success, however defined. She prides herself on being a critical thinker who looks at marketing challenges from a business perspective and sees the "big picture." She prides herself on customer service, professionalism, versatility, resourcefulness and collaboration. And above all, she lives, breathes and worships the brand.

Prior to joining Crux, Jessica worked as the Director of Marketing for Woodside, a comprehensive health club in Westwood, KS. There, she oversaw all marketing, communications, PR, advertising, brand and social efforts for the Club, working to create value for its members while driving brand equity across internal and external audiences.

Jessica holds a Bachelor's degree in Journalism and Mass Communications (advertising major) from Kansas State University.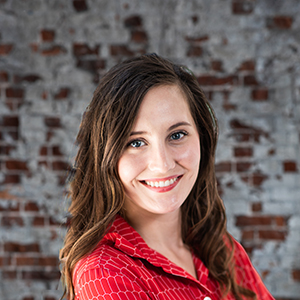 brennen menzie-marlin
account director & writer

Naturally curious and tenacious, Brennen's love of communication and helping others is the foundation of everything she does professionally and personally.

As an Account Director, Brennen prides herself on efficiency and a keen eye for patterns and details. Her background in communications enables her to initiate and maintain relationships while building trust with any audience.(read more…)

Brennen enjoys collaborating with clients to implement creative strategies and effective marketing. Her passion to unite people and ideas drives her to discover the best path possible for her clients. Ever the creative thinker, she enjoys coming up with innovative ideas and finding new ways to get things done.

Brennen has worked in a variety of industries ranging from non-profit to manufacturing. She uses her experience in marketing, public relations, branding and event planning to create a holistic approach for tangible growth.

An undeniable word nerd, Brennen earned Bachelor of Science degrees in Mass Communications (Public Relations) and Linguistic Anthropology from Kansas State University.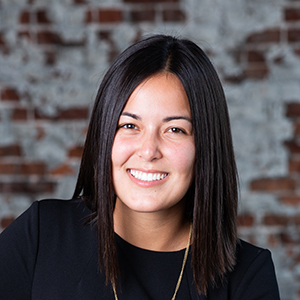 madison stemmler
junior account director

Madison is a born and raised St. Louisan who recently converted to a Kansas City enthusiast (though she remains an avid Cardinals fan). A recent graduate from the University of Missouri, Madison proudly adds a second Mizzou tiger to the Crux team. She received a Bachelor of Journalism in strategic communication, dual emphasizing in art direction and strategy, and a minor in business administration. Her passions include nitty-gritty research, design and writing. Madison has worked on brands all over the world, with previous experience in Prague, Czech Republic and Tokyo, Japan. (read more…)

Outside of her nine to five, Madison considers herself a professional dabbler with hobbies ranging from competitive alpine racing to throwing pottery. She self-identifies as Super Nerdy and is afflicted with a serious book addiction, constantly on the hunt for her next page-turner. Madison is also a synesthete – that is, a person with synesthesia, a brain condition that allows her to read in color and taste the occasional word. And while she's no food critic – really, she'll eat almost anything – she's a veritable fiend for authentic ramen.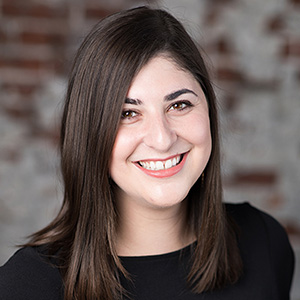 kara brooks
director, digital marketing

Kara has always relished the written word. Prior to joining Crux, she worked as a freelance copywriter, serving clients in the nonprofit, legal and human resources fields. As a self-proclaimed recovering journalist, her experience in the news business comprises everything from breaking news and crime to development and education. She has been published in USA Today, The Washington Post, The Sentinel newspapers and The Gazette.

As Director of Digital Marketing, Kara leads the Crux digital team, overseeing all SEO, social media and analytics efforts. She specializes in crafting compelling press releases and social media campaigns that fuel engagement, increase brand awareness and drive leads. She's committed to telling the stories that matter, executing on integrated marketing plans and implementing best practices that generate results for clients.(read more…)

Though the form of her writing has changed shape throughout the last decade, Kara has an unwavering dedication to her craft and capturing the unique voices of her clients.

Hailing from the great state of Maryland, Kara is passionate about both crab cakes and football. When she isn't crafting content or assessing analytics for her clients, Kara can be found coffee crawling through Kansas City or at the park with her dog, Roscoe.

Kara earned a Bachelor of Arts in journalism from the University of Maryland, College Park with a certificate in LGBT studies.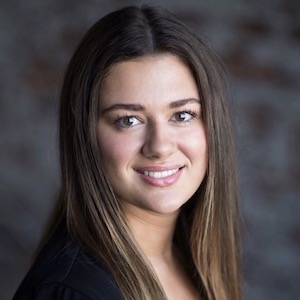 rachel wurzer
digital marketing analyst

A summer intern-turned-full-time-employee, Rachel re-joined the Crux team following her graduation from Miami University in May 2019. After earning three (!) Bachelor's of Science degrees in biology, psychology and Spanish, Rachel chose a more creative route and utilizes her unique background, perspective, and skillsets to help Crux operate more efficiently and achieve our clients' wide range of Sales and Marketing goals. She even serves as our own in-house PowerPoint whisperer, which is just one of her many valuable superpowers. (read more…)

Born and raised in Kansas City, Rachel loves all things KC – especially Royals baseball.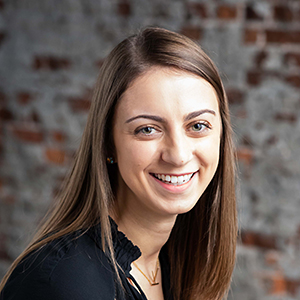 kathryn antonopoulos
senior graphic designer

Kathryn is a Kansas City native with a passion for creating brand systems to help ensure a cohesive and connected brand experience. Prior to joining Crux, she worked in-house for an architecture firm designing and working with clients to translate their brand into the built environment.

Outside of designing, Kathryn spends her time coaching gymnastics and playing with her puppy, Biscuit.

Kathryn is a graduate from The University of Kansas with a Bachelor of Fine Arts in visual communications and a minor in Art History.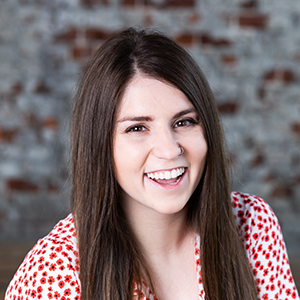 sidney hallak
graphic designer

Sidney is a summer-intern-turned-full-employee who joins the team after graduating from the University of Oklahoma with an Honors degree in Professional Writing, a degree in Visual Communications, and minors in Art History and Psychology. All those words just mean she's passionate about telling brand stories, no matter the format. Her design interests span a variety of fields including brand design, UI/UX design, and experiential design.

Born in Kansas City, Sidney is excited to return home to work at Crux.(read more…)

When she's not at work she loves spending time with her fiancé and their puppy, Zorii, and cooking or baking. She also likes to redesign covers for her most recent reads and is an avid follower of book jacket design. As a graduate from OU, she is a dedicated football fan and as a Kansas City native, she is an equally enthusiastic soccer fan.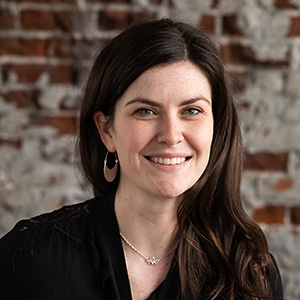 allison dotson
office manager

New to Kansas City, Allison has spent the past five years in Los Angeles, but is native to Asheville, North Carolina where she attended UNC-Asheville for International Studies.

Before landing at Crux she was in the entertainment industry supporting Hollywood music/audio facilities and composers with operations management. Most recently, she supported Dutch producer and film composer Tom Holkenborg, who has created music for films such as Mad Max: Fury Road, Deadpool, Alita: Battle Angel, and Terminator: Dark Fate.(read more…)

She enjoys streamlining processes and problem solving. Her experience in the fast-paced world of entertainment makes her transition into marketing a natural fit.

In her spare time, Allison enjoys hiking, camping, and spending time with her two dogs Ferris and Sampson. She also enjoys reading, as well as teaching and learning yoga.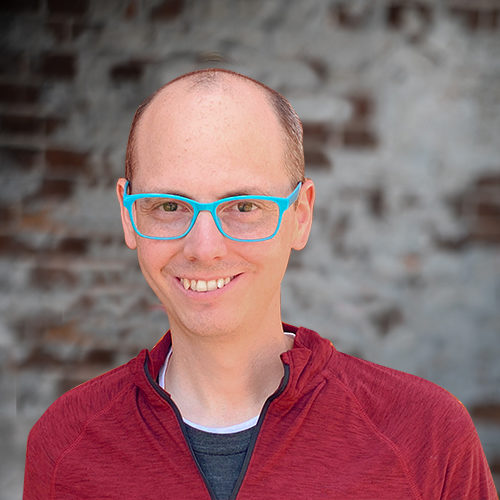 dan rohr
seo manager

A jack-of-all-trades with a dozen years of experience, Dan's unique set of skills help businesses flourish online with innovative design + dev + seo + ppc strategies and a sharp focus on ROI. His expertise in both coding and digital marketing can provide a full suite of services to companies no matter where their current website is in its lifespan.

From the creation of 100+ websites, to numerous successful and long-term SEO campaigns lasting 5+ years, to overseeing more than $5 million in cumulative PPC spend, Dan combines years of experience working on large companies with the agility to provide the constant care and attention small businesses and start-ups need.(read more…)

An entrepreneur even before graduating from the University of Illinois, Dan co-founded an online marketing company and was instrumental in its expansion from humble beginnings — providing websites for small, local body shops – to its sale to a global marketing company. Driven by sharp competitiveness and a constant thirst for knowledge, Dan helps a diverse array of companies succeed in the highly competitive internet landscape.