Think of us as your in-house
marketing department—outsourced.
crux    n. /kruhks/ the most important point.
We believe in simplicity, the nitty gritty, the
bottom line, getting to the point. "Everything
you need, nothing you don't." Period.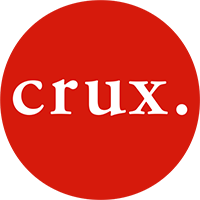 Let's get to the point: You know you need to make a smart marketing investment to grow your business, but you may not know the best way to get there. And let's face it, the traditional agency model isn't always the ideal fit.
Crux takes a different approach.
proof.
You're well aware of your need for impactful, strategic marketing, but you may feel reluctant to hand over the reins of your company to a large agency that hasn't seen the business from your perspective. And doing it yourself? Well, that comes with its own headaches. We get it.
After all, at the end of the day, it comes down to proof—proof in capability, proof in the plan, proof we'll do what we say we'll do. Rest assured, we bring the heart and smarts to drive your bottom line. We'll help you find your crux.