We take a different approach to marketing,
merging strategy with execution.
crux    n. /kruhks/ the most important point.
We believe in simplicity, the nitty gritty, the
bottom line, getting to the point. "Everything
you need, nothing you don't." Period.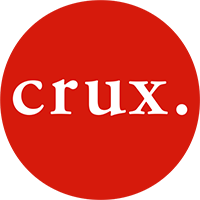 Crux KC launched in 2016 because we knew there had to be a better way to serve the marketing needs of small-to-mid-sized businesses. For the longest time, businesses were forced to choose between a traditional ad agency and hiring an in-house employee. Each presents its own risk, including hefty price tags, marketing fluff, or limited skill sets.  
Thanks to our "un-agency" model, businesses now have a third option. Our "Door #3" offers a hybrid model of outsourcing that allows businesses an affordable way to gain senior-level experience while amortizing costs and reducing risk.
approach.
Crux KC merges executive-level marketing and business strategy to provide a simple, smart and affordable marketing solution for our clients. Basically, you hand over the keys and we drive toward your desired marketing outcomes.
Already have a marketing team? Great, we'll partner with your existing staff to add depth and strength to the bench.
Going it alone? No worries! We'll serve as your in-house marketing team, outsourced, for a fraction of the cost. With Crux, you get a CMO to build your strategy and a complete team to back it up and execute.