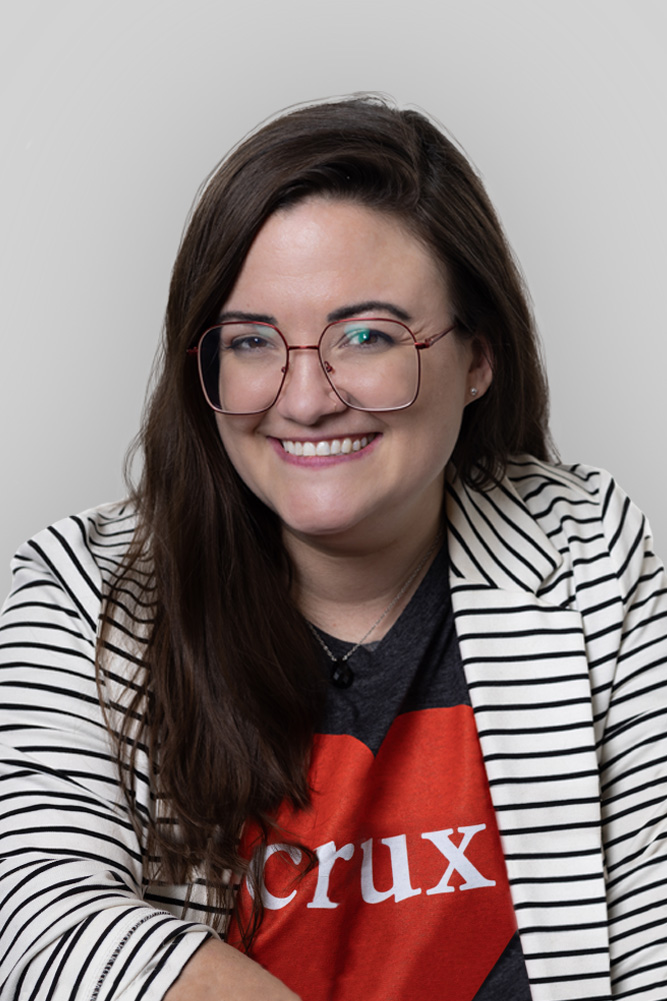 MEG ZANDER
Senior Manager, Search & Web
Meg is an experienced SEO consultant and strategist who helps clients overcome obstacles to create effective, search-friendly content within the melee of processes involved in complex digital ecosystems.
Prior to joining Crux, Meg served in various SEO and content roles at Local SEO Guide, Wpromote, VMLY&R, Signal Theory (formerly Sullivan, Higdon & Sink), as well as partnering with Barkley and DEG to develop content for clients like Spirit Airlines and MoLotto. Her client list is as broad as it is long, including award-winning work for household brands like AAFP, Cargill, Children's Mercy, Christopher Elbow Chocolates, Colgate Professional, Enfamil, Ford Motor Company, Freddie Mac, Kansas Health Foundation, Kodak Print, Meritage Homes, Old Mutual, Old World Spices, Sonic Drive-In, Tide Dry Cleaners and YMCA. Her work for Twist'd Q earned Best-In-Show and Gold AMBIT accolades in the Integrated Campaign and Social Media categories, and her work on Children's Mercy's "Dear Mom" campaign earned both a Gold AMBIT and Gold PRISM award.
When she's not analyzing search data or auditing web content, Meg can be found writing and reading, hiking, camping, and enjoying the chaos of family life while raising two kids and three cats.
"I help clients grow their site traffic and refine their content inventories toward creating a more effective digital experience for their prospects and customers."
EDUCATION
Bachelor of Arts in digital marketing with minors in economics and business administration from Ashford University.
FAVORITE KC SPOT
Westside Local